Schools
Emperor Charlemagne had wanted to generalize the teaching of the reading, the calculation, by one ordinance dating back to the year 789. But the school had existed long before, for a rather small elite. The instruction has developed since the emergence of the writing before J-C and the invention of the paper.
Jules Ferry during the Third Republic (1870-1940), made the school "public", free and secular.
The mixed school becomes compulsory in primary schools by law applied in 1976 but it is already set up in our village before that.

The boy's school
Leon LEGRIS, a native of Crouy, was the director of the boy's school before the World War. To date, nobody was identified in this class.
M. Albert BRASSEUR from Montrelet city was a teacher also at this time, he lived at Vignacourt and also M. Marc-Aurèle HOUPIN.
The boy's school was located in the main street in the sector of the town hall, the current N° 277 GODARD-DUBUC street. The entrance was done by the gate between the 2 trees, which have now disappeared.
Nowadays, the school is located in the Leon Thuillier street, it includes the infant-school and the primary school. To go to high school, kids must take a bus or parents' car. (or go to the residential school).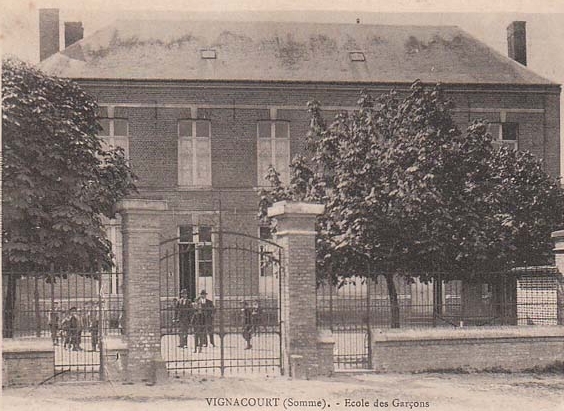 The boy's school in front of the city hall - M. Delbrayelle's postcard.
The girl's school
The girl's school behind the town Hall has been constructed before the boy's school in the same year that the town hall construction. This school was composed of 3 classes, then a 4th class was built a little later.
Elisabeth Delphine CALMONT, sister of the Providence of Rouen, headed for 54 years the girl's school. A silver medal was awarded by the Minister of Education in April 1857. She died in 1878.
Zoe BELLENGUEZ, Nun of the Providence of Rouen led the school, too. She died in 1898.
Mrs. CHASSE Marie native from Ault city was the director of the girl's school before 14-18. Mrs. CATELOIN Renée Clémence native from Montdidier was mistress at this time and also Mrs. Marie-Amélie DE PONTHIEU. Mrs BONVALLET Yvonne was a teacher in 1935.