Schools
Free school for children was a request made by Charlemagne, Charles the Great to the clergy in 789. He himself had been educated by a monk of great erudition, called Alcuin native of Great Britain.
Jules Ferry during the Third Republic (1870-1940), made the school public, free and secular. The mixed school becomes compulsory in primary schools by a law in 1976, it was already the case in our village before..
- The boys' school
- The girls' school
- The classroom
The boys' school
The boys school was located in the main street in the sector of the town hall. The entrance was done by the gate between the 2 trees, which have now disappeared.
Leon LEGRIS, a native of Crouy, was the director of the boys school before the World War. M. Albert BRASSEUR from Montrelet city was a teacher also at this time, he lived at Vignacourt and also M. Marc-Aurèle HOUPIN.
Nowadays, the infant-school and the primary school are located in the Leon Thuillier street. To go to high school, kids must take a bus or parents' car. (or go to the residential school).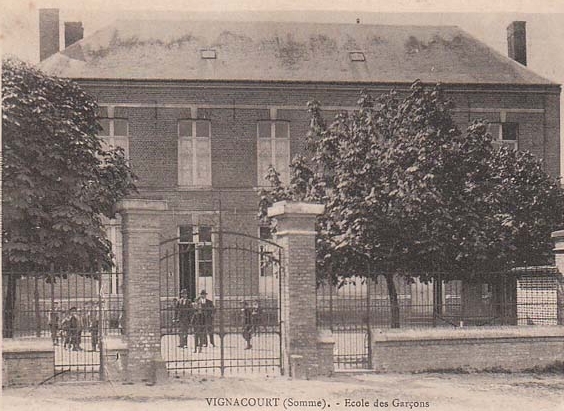 The boys' school in front of the city hall - M. Delbrayelle's postcard.
The girls' school
The girls' school was situated behind the city hall. These buildings were built at the same time as those of the city Hall. This school was first made up of 3 classes, then a 4th class a little later.
Elisabeth Delphine CALMONT, sister of the Providence of Rouen, headed for 54 years the girl's school. A silver medal was awarded by the Minister of Education in April 1857. She died in 1878. Zoe BELLENGUEZ, Nun of the Providence of Rouen led the school, too. She died in 1898.
Mrs. CHASSE Marie native from Ault city was the director of the girl's school before 14-18. Mrs. CATELOIN Renée Clémence native from Montdidier was mistress at this time and also Mrs. Marie-Amélie DE PONTHIEU. Mrs BONVALLET Yvonne was a teacher in 1935.
The classroom
The cast iron charcoal stove sits in the middle of the classroom. The pupil's desk has an inclined plane to facilitate writing. A pen, an inkwell and the blotter are the student's tools. The professor uses the blackboard.
The map of France is hung on the wall. This map of France whose contours will be redrawn over time to reach the shape of the hexagon. Alsace and Lorraine did not appear there from 1871 to 1919 and from 1940 to 1944-1945.
The visits of the academy inspector continue in wartime (14-18) in the schools of the canton.
The school textbooks of this time are not large but they contain all the essential knowledge to be assimilated.