Home > Heritage > Church
Church saint Firmin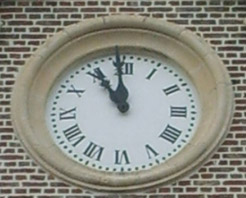 The church, nicknamed "the little cathedral" was inaugurated in 1878, in gothic style.The architect Mr. DELFORTERIE was recognized in all the north of France.
At the beginning, in the year 1000, it was the site of a chapel rested by the friars of Corbie. Regnault d'Amiens, Lord of Vignacourt founded the Collegiale (church organised with canons) in the 13th century. It was burnt in 1517, then was rebuilt and again burnt in 1636. It was rebuild and saw its ploughed up bell-tower into 1816. There had, erstwhile, a cemetery adjacent to the church.
Main door of Vignacourt's church
Saint-Firmin is the name of the 1st bishop of Amiens, origine Spannish. In our church, he is represented with his head in his hands, because he attracted crowd by his eloquence and the enmity of the Roman authorities who killed him.
All the wood sculpture in this church is the work of a woodcarver of the Lille town of the 19th century, except the pulpit manufactured by a joiner of the village : Mr. FOUACHE. The ironwork was made by the local craftsmen.
Masterpiece of precision, the organ includes 883 pipes, 17 plays, date of 1872. In 1886 Mr. Simon VAN BEVER, increase the instrument, in the church that we know. In 1984, more than 700 working hours are necessary to Mr Robert CAMUS for restore it. For a total renovation, It would be advisable to add several working hours.
"The organ is a full orchestra, of which a skilful hand can all ask" Balzac.
The clock was manufactured in 1879 to Ferrières in Oise (Picardy).