Saint Firmin church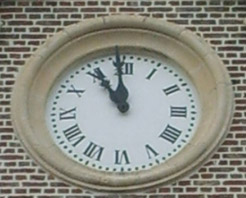 The construction of the Saint-Firmin's church, better known as "the little cathedral" began in 1872. In the year 1000, the site location was a chapel created by the monks of Corbie.
In the 13th century, Regnault d'Amiens, Lord of Vignacourt founded the Collegiale (church organized with canons). It was burnt in 1517, then was rebuilt and burnt again in 1636. It was rebuilt. The bell tower has collapsed in 1816.
The foundation stone for the new church was laid in 1872. The year 1875 is engraved on the main facade over the front door. The consecration ceremony was held in 1878 by Monsignor Louis Bataille, Bishop of Amiens.
Main door of Vignacourt's church
Saint-Firmin is the name of the first bishop of Amiens, originally from Spain. In our church, he is represented with his head in his hands, because he attracted crowd by his eloquence and the enmity of the Roman authorities who killed him.
The architect was M. Delforterie, he was known to have designed several monuments in the region, such as churches (Abbeville, Amiens, Salouel, Villers-Bocage ..), hotels, castles (Flixecourt, Marchais ) and communal schools. M. Duhamel born in Vignacourt, was in charge of the church works.
The chair for the preaching in the nave, the altar and the stalls in a similar type were carried out by a sculptor from the Lille city: M. Buisine-Rigot. The benches were done by the local craftsman.
The ironwork was made by vignacourt' craftsmen. The clock was manufactured in 1879 to Ferrières in Oise, Picardy.
Old roof purlins of the church sold to the local people for funding of church restauration. (2010)
Painting by Michel Rodier, with the church of Vignacourt in the background
The organ has been installed in the ancient church. In 1886, the instrument was improved and the organ casework was increased by Van Bever Brothers Enterprise. The sculpture added on the top represents a musician.
In 1984, more than 700 working hours were useful to Mr. Robert Camus for the restoration. Several additional hours would be needed for a full restoration of the whole.
"The organ is a full orchestra, to which a skilled hand can ask everything, can express everything"
Honore Balzac.
Double keyboard.
Gold Medal, Antwerp world expo on 1885
A. Van Bever frères for Adrian Van Bever brothers.
The Van Bever Brothers branch was created later in Amiens in 1889.