Home > History > British cemetery
British cemetery
A B C D E F G H I J K L M N O P Q R S T U V W X Y Z
586 soldiers died during the world wars, lies in the British cemetery, in particular, 424 Australians, 150 British, 11 Canadians, 1 Indian soldier. (1 soldier in the local cemetery).
The British cemetery is located along the ancient railroad. You will find below some soldiers pictures and a few headstones shared on my facebook page.
AINSWORTH Joseph:
55th Australian Infantry Battalion.
Wounded at Corbie, he died on April 27, 1918.
His parents were living in Sydney.
To date, not known photo
ALLAN William Arthur Francis:
He was corporal in the Australian 9th Trench Mortar Battery. He embarked the 23rd November 1915 from Melbourne in the HMAT Ceramic A40.
He was killed in action the 11th June 1918, at the age of 21 years old.
Courtesy of Sharyn Roberts for Virtual War Memorial Australia vwma.org.au
ANTOGNIOLI Giovanni:
28th Australian Infantry Battalion.
Son of Pietro and Rosi Caterina Antognioli of Tresinda Vikelina, Province de Sonoco - Italy according to Cwgc records but probably Tresenda, Teglio municipality in Sondrio region, mountain Valtellina (and maybe Antonioli at the origin).
For australian data: INTOGNOLI (English pronunciation ) first names: Jack Peter
He died 11th June 1918.

To date, not known photo
AUSTIN Norman:
3rd Battalion Canadian Infantry. (1st central Ontario regiment).
He died of wounds the 8th August 1918, Age 31.
His parents were living in Ontario, Haileybury.
To date, not known photo
ARTSO Edward Harold:
Edward was born in Victoria, Australia in 1892. Edward was enlisted in the AIF (29th Battalion), at the age of 23 years old. His occupation at that time was as a carpenter. He embarked Melbourne on board HMAT A14 EURIPIDES.
Edward Harold Artso died at Vignacourt the 18th May 1918, from a Gun Shot Wound to his back and right arm that he had received at Sailly-le-Sec on 3 May 1918.
Courtesy of Leone Fabre, website: livinginballan.blogspot.com
BATCHELOR Clement John Fell:
2nd Bn. Royal Berkshire Regiment. He died the 26th April 1918.
10 soldiers of the Royal Berkshire regiment are buried to Vignacourt, 8 of them died in April 1918...
Clement John Fell courtesy of Terry
from website: www.ww1cemeteries.com
BEHAN William Charles:
Australian soldier in the A.I.F. He embarked from Brisbane on HMAT A75, Queensland at 35 years old. He died of wounds the 25 May 1918. All info on the Beahan's plaque at Brisbane on this link: Yeronga Memorial Park.
William Charles BEHAN - Courtesy of the webmaster
BEST George William:
He was born in 1896 at Hobart Tasmania.
Lieutenant George William Best, No 4 Squadron, Australian Flying Corps,
He was killed in a flying accident at Poulainville aerodrome on April 12, 1918.
George William BEST - Courtesy of Sue Guinan - www.gravesoftas.com.au
BIRKIN Arthur:
He was born in Kimberley in Nottinghamshire County. This city of the United Kingdom was known for its coal mines. Arthur was a former miner and local councilor.
He was a gunner in the 327th Royal Garrison Artillery Battalion.
He died on July 19th, 1918 at the age of 38. He was the father of 5 children.
Arthur BIRKIN - Copyright Nottinghamshire County Council - Nottinghamshire.gov.uk
BOOKER, Charles Dawson:
Major in the Royal Air Force. He lived in Kent - United Kingdom. He was the son of Louis and Ada Booker. He died at the 21 years old, on August 13, 1918, at the west of Rosières. All details of his military career on the website: www.theaerodrome.com.
Charles Dawson Booker - Courtesy of Scott Hamilton
BRADLEY Lewis :
Lewis Bradley was a driver of Royal Field Artillery in the 410th Bty, 96th Bde.
He was native from Gloucestershire, a county in South West England. He died on 20th June 1918 from multiple wounds, at age 29.
Lewis was a youngest of four brothers and two sisters and a rugby player with undoubted talents, a very popular player. Lewis was a great favorite in Wigan.
Photo by courtesy of Mr. Ron Hunt - website www.wiganworld.co.uk
BRAY Aubrey Mellish:
Captain 8th Battalion Royal Berkshire Regiment.
Son of Lieutenant-Colonel Reginald Edward Traherne Bray from of West St. Ashburton, Devon. He died of wounds the 8th August 1918, aged 24.
The photo of the 1st grave marker was taken by Louis Thuillier AWM P10550-863.

Aubrey Mellish BRAY, photo courtesy of Isabel Hutchinson and George Graham.
BUCKLAND William Alexander John:
Lieutenant Australian Flying Corps No. 3 Squadron,
He was native from  Mirboo Victoria. He was a brilliant student and he became an engineer. He was killed in action, the 6 May 1918, 24 years of age.
William Alexander John BUCKLAND -
courtesy of M. Dennis Freeman: www.wesley-college.
CANFIELD George William:
English rifleman - 2nd Bn rifle brigade
The parents were located Tunbridge wells in the west Kent in England.
He died on 25th April 1918.

Courtesy of M. Martin Edwards - www.roll-of-honour.com
CARMICKAEL Archibald:
He comes from a little town of Scotland in the County of Berwickshire. Before the war, he worked with his father. There were merchants at Coldstream.
After a few weeks in France, he died aged 26 killed in action, the 22nd May 1918. He was second lieutenant 108th Brigade, Royal Field Artillery. His brother George was killed three months later.
Courtesy of Will Murray from website: www.coldstreamhistorysociety.co.uk
CARTER Thomas Augustine:
He was Corporal in the 28th Bn Australian Infantry. "Like many Australians, he was so affected by Gallipoli that he enlisted in the Australian Imperial Forces on 14 May 1915. He was killed at Vignacourt on 1 June 1918". Amanda Underwood.
Thomas Augustine CARTER- Courtesy of Amanda Underwood
CHIGWIDDEN, Edward George
Soldier from 33rd Battalion Australian infantry. He was born in New south wales at Hillgrove. He lives at Howell near Inverell as a labourer. Inverell is a town at east of Australia on the Macintyre River. This is an agriculture region located at 283 mi (455km) from Sydney and 198 mi (319 km) from Brisbane.
He embarked on ship HMAT Beltana A72 at Sydney the 13 May 1916. He was wounded a third time on August 1918 and died the following day 9th August 1918.
Edward George CHIGWIDDEN - courtesy of www.inverellremembers.org.au
COOK Ernest Arthur:
59th Bn AIF. He was born in Australia, New South Wales. He worked as a farmer.  He embarked from Sydney aboard HMAT Afric on 3 November 1916.
He was wounded in action with multiple shell wounds the 9th August 1918, aged 19. He succumbed to his injuries a few hours later. It appears that he was admitted, first of all, to the 8th Australian fields ambulance and he was transferred to the vignacourt "station".
Orders were received to the 1st unit (8th) to move. Apparently the 1st August 1918, they were located in the sector of "Petit-Camon" near Allonville. (The street "du petit-camon" Allonville IMHO). The private Edward Roy ONLEY was transferred also to Vignacourt in the same conditions.
The Epitaph: "He died as only such men can die fighting for god right and liberty".
Courtesy of Rebecca Cook, Kiama Municipal Council. www.kiama.nsw.gov.au
COYNE David Emmett:
He was born in 1896 at Ballinrush. Australian, He lived in Queensland and, engaged in the Australian Imperial Forces in January 1916. Australian soldier awarded the gold Albert medal. Specialist in grenades, he died while protecting his comrades on May 15, 1918.
David Emmett COYNE - Courtesy of the webmaster
DAWES Alfred Charles:
Soldier of the 6th Bn Northamptonshire.
He was born at Chipping Norton in the United Kingdom in the county of Oxfordshire.
He died of the 2nd August 1918.
To date, not known photo
DUGGAN George William:
He was trooper of the 13th Australian Light Horse.
Son of Michael and Ellen Duggan, of Ensay, Victoria, Australia.
He died of wounds the 9th August 1918.
George William DUGGAN - Courtesy of Laurie DUGGAN, graveneymarsh.blogspot.com
FARLEY LEACH, George William Harry:
Soldier of the second world war, buried in the local cemetery in the central path.
He came from the United Kingdom - Kensington. He died in 1940 at the age of 21 years old. He was enlisted in the Royal West Kent Regiment - 6th Bn.
Headstone of George William Harry FARLEY LEACH in the municipal cemetery
FIELDEN William:
He was soldier of the machine gun corps.
William was born in Shawforth in the United Kingdom, near Rochdale, Manchester.
He died of wounds the 28th September 1916, 21 years of age.
William FIELDEN portrait courtesy of Pauline Journeaux of Rochdale: www.rochdaleonline.co.uk and courtesy of Bernard Pratt of www.littleboroughshistory.org
FITZGERALD Roy James:
35th squadron Royal Air Force and Gloucestershire regiment (12Bn).
Killed in air fight the 1st July 1918 - Age 27.
He was born in Wellington. Her father ran a downtown shop over there. He had studied in New Zealand, to become an engineer. He was a marine engineer prior to the war.
Roy James - Photo courtesy of www.aucklandmuseum.com -C35319- No Known Copyright Restrictions
GARRICK Stanley McDonald:
Stanley Garrick enlisted in the Australian Imperial Force on August 21, 1915, two days after his 18th birthday. A dairy farmer, he was born at Gympie, 170 kilometers north of the Queensland capital, Brisbane.
Stanley embarked for overseas service from Brisbane on October 21, 1915, aboard the HMAT Seang Bee bound for the Middle East.
On March 26, 1916, he left Alexandria in Egypt, arriving at Marseille in France on April 2. Later that month Stanley was evacuated to England after suffering influenza.
After further training in the use of the Lewis Gun, Stanley returned to France, leaving Folkestone on October 12, 1917. Two days later, he joined the 24th Machine Gun Company/4th Machine Gun Battalion.
Stanley was just 20 years old when he died on August 10, 1918, of wounds received when his company came under enemy shellfire in the La Neuville area.
He was laid to rest at Vignacourt where his cousin and best friend, Tom Sharp, had been buried less than four months earlier.
Stanley Mc Donald courtesy of Lisa Stubbs and Tom Sharp, website: canungraansweredthecall.org.au
GILL John Thomas:
14th Bn AIF He embarked in 1915.
He was wounded several times. His parents lived in Victoria.
He died the 7th May 1918, aged 33 years old.
John Thomas GILL, courtesy of Kerry Errington for the Woodvale Progress Association
and Dr. Dannielle Orr www.anzaccentenarybendigo.com.au
GITSHAM James:
35th Squadron Royal Air Force.
He was born in Ballarat in 1894.
He enlisted in the 23rd Bn AIF and 2 years later, he joined the Royal Flying Corps.
He was killed in action on 29th June 1918.
James GITSHAM - Courtesy of Faithe - website : ww1nonaif.gravesecrets.net
HAMILTON Herbert Henry Parke:
Lieutenant  26th Australian infantry battalion.
He was born in the United Kingdom at Brendford on 5 Dec 1894. He was a teacher at Brisbane.
He died of gunshot wounds at Villlers-Bretonneux the 14 August 1918.
Herbert HAMILTON - Courtesy of Patricia HAMILTON www.larigan.com
HERRON Kenneth Chester:
Lieutenant Squadron Royal Air Force
He was born in Richmond – near to London on the 6th March 1881. In the 1890s the family moved to Newdigate. He was educated at Bradfield College, a school near Tours in France and at Leipzig in Germany. On 1907 he married Alice Kate Smith, they had three children.
Lt. Herron was hit by a rifle bullet and died almost immediately, on the 24th April 1918, whilst flying low over enemy lines at Villers-Bretonneux.
A stained glass to his memory can be seen in the south aisle of Newdigate church.
Kenneth Chester HERRON courtesy of www.Newdigate local History society and Erica Chambers,
with the book: "A village at war, Newdigate in the world war one" of John Callcut, Reveille Press.
HOLBROOK Thomas Charles:
2nd Australian Pioneers embarked on hmat Aeneas from Melbourne.
He was born in England on June 1883. He became a carpenter at Bunbury South West (located 175 km south of Perth). He was wounded severely and died the 19th May 1918 at the age of 35.
Thomas left behind 2 sons- Douglas born in 1913 ( Twin brother was stillborn ) and Thomas born in 1915.  Following the Death of  Elizabeth (wife of the soldier) in December 1918, the 2 young sons were raised by their Grandfather, Thomas John HOLBROOK in the small town of Balingup, Western Australia.  Sadly the younger son, also named Thomas, died in 1931 at the age of 18 years from Tetanus infection.
Thomas Charles - Courtesy of Jeff PEIRCE Military history researcher: http://anzacheroes.com.au
JUDGES Franck Arthur:
20th Bn Canadian infantry (central Ontario regiment). He was born in 1893 and dead 8th August 1918, the 1st day of the battle of Amiens. Aged 24.
Franck Arthur JUDGES - picture courtesy of Canadian Virtual War Memorial - link: www.veterans.gc.ca
KINGSLEY Jabez:
32nd Bn Australian Imperial Forces. He was native from Maidstone, England, County of Kent. He lived in Perth, Western Australia. He was married. He died of wounds the 25 June 1918, at the age of 46 years old.
To date, not known photo - Jabez KINGSLEY
LATHAM Sam:
Sam was sapper in the Royal Engineers, "Z" special corps. (flamethrower, use of Gas & flame projectors). He was born at Hawick, Roxburghshire in Scotland. In civil life, he worked in the society of Engineers. He was married and had children. He died of wounds the 25th July 1918 aged 32 years old.
Sam LATHAM - Courtesy of Robert Sharp
LE MOIGNAN John Francis:
Gunner in the 42nd Bn Royal Garrison Artillery.
He was native from the island of Jersey, region Britany on the French Atlantic coast. His parents lived at Mary street. He was a carpenter in life. He was killed in action by an aerial bombed on 19th May 1918, aged of 21.
To date, not known photo - John Francis - LE MOIGNAN
LUPTON Charles:
English captain of the Royal Air Force. He is born at Leeds in the Yorkshire. He was the only son of Charles and Katharine Lupton. He was killed in action on 9 May 1918, aged 19. His military career: theaerodrome.com
Charles LUPTON - Courtesy of Scott Hamilton
METCALFE James Beverley:
Major Australian Army medical corps. He was born the 13th January 1888 at Norfolk island in eastern Australia. He was graduated from Sydney University for medicine. During the war, he was enrolled in the 10th Field Ambulance.
James died in action during operations in the vicinity of Albert. He was severely wounding at Bonnay village. He died in clearing station at vignacourt the 25th April 1918 at age 30.
He was posthumously awarded the Distinguished Service Order and the Military Cross.
James Beverley METCALFE
Courtesy of Publisher D. Rosenberg for the book:
«Australian Doctors on the western front» by Colonel Robert Likeman CSM.
MEYSEY HAMMOND George:
He was born in the United Kingdom at Pershore (10 Mi from Worcester). He lived for several years in Australia. He was Captain on the 28th Australian Infantry Battalion.
He died aged 25 on 14th June 1918 of wounds at Morlancourt and was buried at Vignacourt.
He was awarded the Military Cross. He sent the last letter from France with these words:
" I received a dose of shrapnel in my left leg on the glorious night when the battalion went over the top. The Doctors have extracted the stuff but goodness knows when I will commence crawling about again..."
Courtesy of Trudy Burge,
from website: http://pershoreww1.webs.com
MOLLOY Maurice:
Lance corporal, 21st Bn Australian Infantry, A.I.F. Parents James and Mary Julia Molloy were located at Lake Cargellico - NSW. Maurice was Albert KELLE' s grandson. Albert was native of Nancy city, he moved to Australia with his family in 1865.
Maurice died of wounds at the age of 21 years old, on 22 May 1918.
"Such a long way to go and die so far from home so long ago at so young an age. Just a boy from Lake Cargellico who took off for an adventure with his uncle" Helen Castle.
Maurice MOLLOY - Courtesy of Helen Castle
MOLYNEAUX Thomas Francis:
Thomas Francis was an Australian native of Paddington in the state of New South Wales. He was born the 1st September 1890.
He embarked the 30 September 1916 in the ship HMAT Aeneas A60 at Sydney.
He died at 27 years old at Ribemont (near Albert) the 4th June 1918, a few days after being gassed. (40 km – 25 mi). Australian Field Artillery 5th Bde.
Image courtesy of Tom McDonald and work of Terry.
MONTAGU Herbert:
Canadian Lieutenant of the infantry regiment of Ontario. Native from Saskatchewan, he moved later with his parents in British Columbia. He was a student in Victoria (Vancouver Island) and then at the University of Toronto. Originally, he was enrolled in the 134th Battalion, Canadian Infantry. He died on July 9, 1918.
Herbert Montagu - Courtesy of Simon Godly - 15thbattalioncef.ca
NILSEN John Howard:
Gunner of the 49th Battery 13th Brigade Australian Field Artillery.
He was born in Tasmania, at Beaconsfield located on the north of the island.
He seems so young on the photo, he wore a specific belt with pockets for ammunition. He died of wounds the 10 August 1918.
John Howard NILSEN -
Courtesy of Sue Guinan - www.tasmanianwarcasualties.com
OERTLING Lewis John Francis:
Lieutenant - Bedfordshire Regiment - Royal Air Force.
He was a native of Barnes Surrey.
He died 8th August 1918.
Lewis John Francis OERTLING -
Courtesy of Steve Fuller – www.bedfordregiment.org.uk -
ONLEY Edward Roy:
8th Field Ambulance, Australian Army Medical Corps.
He was born to Flynn - Victoria, he was railway clerk.
He died on 10th August 1918, aged 23. He was wounded in action the previous day (See Cook Ernest Arthur). Epitaph: "Thy will be done".
To date, not known photo

PYRTON Kkongji
Indian Labour corps - 34th Khasi coy
Died of the disease the 3rd April 1918. It seems that Indian Labour Corps actions were transport and earthwork for RFC. (Khasi - North Eastern part of India).
To date, not known photo

RICHTER, William Ernest
Gunner in the 5th Division Ammunition Col, DAC. Australian Field Artillery.
He was a native of Burnside, South Australia, in the eastern suburbs of Adelaide.
He was wounded and he died on the 9th August 1918.

Courtesy of National Library of Australia.

ROLLS Charles Garrett.
Sergent lance served AIF – 33rd Bn. Charles was born at Warialda.
He was a labourer. He lived in the village of Graman about 40 km north of Inverell in northern NSW.
Charles was gassed in April 1918 near Villers-Bretonneux and then wounded in August near Aroche Wood. He died of his wounds on 8 August 1918 age of 31.
To date, not known photo Charles Garrett ROLLS -
courtesy of www.inverellremembers.org.au
RUTHERFORD Henry Balfour:
He served Australian army 17th Bn.
He was born in the New South Wales Australia. He was shearer.
He embarked from Sydney HMAT A71. He died of wounds the 16th May 1918.
To date, not known photo
SHARP Thomas (Tom):
Tom was born on July 6, 1894, at Torbanlea part of the Fraser Coast Region of Queensland, Australia. He grew up on a dairy farm at Beechmont and in turn became a dairy farmer.
On February 7, 1917, he left Sydney aboard the HMAT Wiltshire which docked at Devonport in England on April 11.
On October 3, 1917, Tom embarked for the Western Front from Folkestone.
Arriving in France he was assigned to the 7th Machine Gun Company/2nd Machine Gun Battalion.
Tom was wounded in action on April 20, 1918, trying to save a wounded comrade as they came under enemy fire near Villers-Bretonneux.
He was evacuated to the 20th Casualty Clearing Station at Vignacourt. Tom died of his wounds on April 21, 1918, aged 23.
Less than four months later, Tom's cousin and best friend, Stanley Garrick, died of wounds received in action and was also buried at Vignacourt.
At the request of his family, Tom's grave displays the epitaph: "Not dead but gone before."
Tom SHARP - courtesy of Lisa Stubbs and Tom Sharp,
website: canungraansweredthecall.org.au
SMITH Stanley William:
He was born at Homebush and was a farmer at Avoca.
Enlisted on 28th April 1917, he embarked at Sydney on 16 July 1917.
He served with the 60th battalion.
He died of wounds on 9 August 1918, on the road to Amiens.
Stanley William Smith
Courtesy of Mrs Anne Young – http://ayfamilyhistory.blogspot.fr -
SMITH William Forbes:
He served Australian Infantry – 30th Bn
William was born at Rayne, Insch, Aberdeenshire, Scotland.
He was labourer at Inverell in Australia. He was wounded a first time and later gassed and died on 15 May 1918.
To date, not known photo
William Forbes SMITH
STEVENS Walter Thomas:
Walter Thomas was a rifleman in the British Army in the 9th Rifle Brigade. The Rifle Brigade insignia is topped by a crown.
His family was from South of England in the town of Saint Leonards, located in the seafront. He has died at the age of 27 on 5th April 1918 (Le Hamel Sector).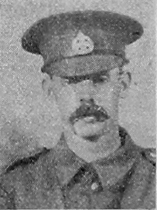 Walter Thomas Stevens by courtesy of M. Kieron Pelling, website www.ww1rollofhonour.co.uk
TIVEY Alfred:
He was assigned to the 33rd battalion infantry Australian. He died of wounds the 9 May 1918 at the age of 35.
He was born in New South Wales at Nimmitabel (Southeast of Australia). His father came from England of Nottingham.
He was single but linked with Dorie which gave birth to a daughter Muriel. Major General Edwin Tivey was the first cousin of Alfred.
Alfred TIVEY
Courtesy of Jan Tivey - http://tiveyfamilytree.com
TRETHEWEY Edwin Clifford
He was a native of Launceston Tasmania
Gunner in the Australian Field  Artillery
He died 11th August 1918, aged 31.
Courtesy of  Pippa Ettore
WEEKS Reginald Charles:
English Sergeant. He died of wounds at the 21 years old the 7 August 1918. He was integrated into the 2nd battalion Bedfordshire regiment. He lived to Sundon in the English county of Bedfordshire.
To date, not known photo
Courtesy of roll-of honour.com - Sundon village.

WILLIS Justin Charles:
He was native from Birmingham, he was Major in the 18th Divisional Signalling company.
He was wounded by a shell on August 6, 1918, and he was dead the following day, age 23. 
The epitaph: Qui ante diem periit sed miles et pro patria (He died young but as a soldier and for his fatherland).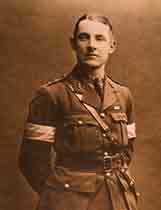 Courtesy of www.oundleschool.org.uk

The Commonwealth war graves Commission is in charge of 820 military cemeteries and 2 400 commemorative steles and places in Picardy.
For the Remembrance ceremonies, commemorating the victims of the two world wars, the most Anglo-Saxons carry the red poppy of the Somme, as a tribute to the dead soldiers.
In Australia and Nouvelle Zealand, the commemorations take place on April 25: The Anzac day. (ANZAC: Australian and New Zealand Army Corps).
Inauguration ceremony of 1921 :
Brothers in arms of the British Army, fallen to the field of honor,
sleep in peace, we are watching over you.
The inauguration ceremony of the monuments in memory of the soldiers was held on Sunday 7th August 1921, in the presence of the French General Philippot, commander the 2nd Army Corps, Colonel Dick-Cunyngham for the British Army, Mr. Thuillier-Buridard, Senator of the Somme, the Vignacourt Veterans, the children of the schools, the municipal band and Mr. Albert ROZE, the sculptor of the statue. This event is reported in a national press article of 1921.
General Philippot - courtesy of M. Bernard Roure website : Musée des étoiles