Former associations
Education and culture
Former pupils of the boys' school
The friendship association of former pupils of Vignacourt boys' school was created on 24th July 1908. The goal was to maintain interactions between the students with cultural and sports activities.
Former pupils of girls' school
The friendship association of former pupils of Vignacourt girls school was set up on 11th June 1914. The aim was to develop among all the former students of the girls' school, a network allowing them to help each other in their future actions but also to support the school.
The little theater troupe
In the intention that names of people who participated in the young theater troupe are not forgotten, the list is shared below. I had the opportunity to discuss this subject with some of our elders and Mrs Joëlle GERON in particular ... (in 2013)
- Raphaël LEFEBVRE
- Joseph GODEFROID,
- Louis FOUACHE (Carpenter),
- Iréné FOUACHE (brother of Louis... )
- Jean-Baptiste MERCIER,
- Fortuné GOURGUECHON,
- Albert CROGNIER,
- Joseph DEROGY.
You can imagine young actors in a suit with hats finely-crafted, finely-ornamented, with size quite large probably shaped by the local hatter.
After some research, I found that the most talented had been the opportunity to participate in a contest to the Comedy of Picardy in Amiens.
- : - : - : - : - :- : - : - : - : - :-
Veterans associations
Veterans - 14
The official date of the creation of the fraternal association of the veterans, mutilated and war widows were on 27 December 1929 and it is the only association that has had the capacity to continue until today.
Union of victims - 45
This union of the victims of Vignacourt was created on August 28, 1945. Its purpose was to help the victims of the second world war, to inform them in their procedures and to help them to rebuild in the proper sense, as in the sense figured.
- : - : - : - : - :- : - : - : - : - :-
Sportifs:
The Vanguard "L'avant-garde"
The Vignacourt Vanguard was created on May 18, 1911. This kind of association has developed in the early 1900s under the aegis of the French sports federation. The objective was to train disciplined and athletic young people. A healthy body in a healthy mind. Regional championships were organized in the big cities, in different disciplines with the presentation of federal cups for the winners. Vignacourt's Vanguard was led by Mr. Chabran. The training took place in front of the factory buildings.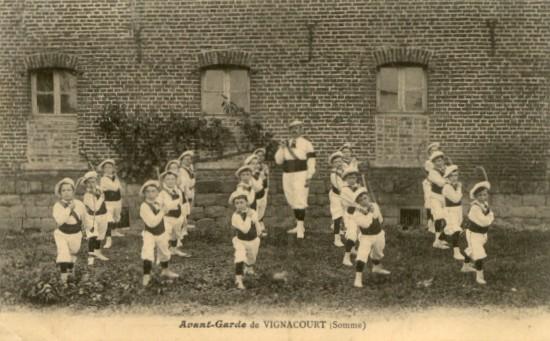 The vanguard with Mr Auguste CHABRAN and young people.
These photos were taken Street "Mrs Delatour".
Sportsmen after 14:
Among our sportsmen we had some athletics licensees:

- M. Marcel ISAERT,
- M. Gabriel DELASSALLE,
- M. Colbert DUCROTOY,
- M. Serge CRETEL,
- M. Maurice DEROUSSEN.
The sport committee "Union Sportive" - 45
The sport committee called "Union sportive" in French, was created after the second world war, the exact date was 22nd May 1945. The head office address was located in a coffee-shop: "Brailly", in the Godard Dubuc street.
The aim of this association was to unite the young people of the village around a common project through sports education, in particular football.